UPCOMING EVENTS
APRIL 1 , 2017 | ALLOS MUSICA | 8:30pmConstellation

3111 N. Western Ave. | Chicago, IL 60618

​

Founded in 2006 by James Falzone, Allos Musica explores the intersection of divergent streams of contemporary classical, jazz, and traditional music from the Middle East and Europe. Allos Musica Ensemble will be celebrating it's most recent release, Gnossienne, on the Allos Documents label.

James Falzone - clarinet and woodwinds

Ronnie Malley - oud, voice, harmonium

Jeremiah McLane - accordion

Tim Mulvenna - hand drums and percussion

"Though the Arabic influence is unmistakable, the music's emotional clarity and lyrical grace is universal." Peter Margasak

Here's a sample from our Strobe Studio session.
---
Chicago Premiere d

irected by

Nick BowlingA Disappearing Number

is an exquisite, internationally acclaimed play about love, math, and how the past and future connect. In 1913, a clerk in rural India named Srinivasa Ramanujan sends a letter to famed mathematician G.H. Hardy, filled with astonishing mathematical theorems. In the present, a math professor and a businessman fall in love. Told in a whirlwind of vignettes spanning history and time, the play is a love letter to numbers, blending the beauty of everyday relationships with the mysticism of the cosmos. The original play was produced by

Complicité

originally conceived and directed by Simon McBurney

.
​TimeLine Theatre 615 W. Wellington Ave Chicago, IL 60657

---

CAST:

Kareem Bandealy

(

Al Cooper

),

Anish Jethmalani

(Aninda),

Anu Bhatt

(Surita),

Arya Daire

(Ramanujan's mother),

Dennis William Grimes

(Hardy),

Juliet Hart

(Ruth)

Siddhartha Rajan (Ramanujan)

Ronnie Malley and

Bob Garrett

(musicians)

​​

*Ronnie Malley and Bob Garrett will be alternating performances.
---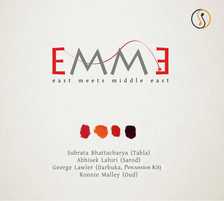 ---
---
RECENT VIDEOS
PROMOTIONAL VIDEO OF RONNIE MALLEY'S PROJECTS

---
FEATURE SEGMENT
FROM

ALMAJALLA ON ALHURRA TV
RONNIE MALLEY'S LIFE AND WORK IN THE ARTS
---
ZIRYAB, THE SONGBIRD OF ANDALUSIA (TRAILER)
An original play written and performed by Ronnie Malley.

A 75-minute musical narrative about the life of Ziryab, a 9th century musician and polymath,
who traveled from Baghdad to Muslim Spain and shifted the course of history.

---
Subscribe